Imagine NEVER having to say "my back's killing me" again!

#1 Back Pain Relief Solution. Even  Recommended by Chiropractors and Orthopedicians Worldwide! 
✅ 100% Money-Back Guarantee
If you are not satisfied with our SpineSecure™ Belt in 3 days, You get 100 % of your MONEY BACK! Shop RISK-FREE!
✅ Free Shipping Worldwide
✅ Order Processed Within 24 Hours
✅ fits all sizes( comes with an extra strap for enlargement)
Made of high-tech stretchy neoprene material, the SpineSecure™ brace is designed to fit all sizes( comes with an extra strap for enlargement). Wear it comfortably to relief back pain, every day!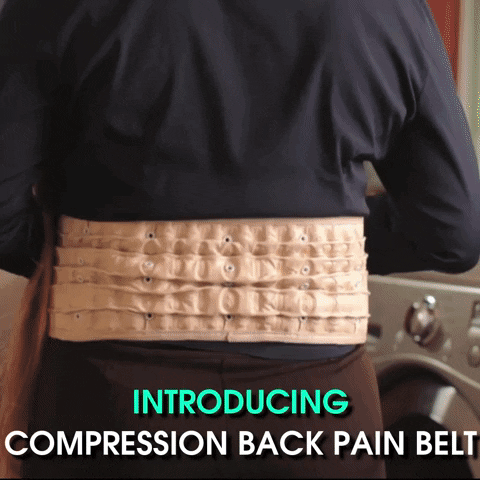 The SpineSecure™  Decompression Belt targets pain at the source. Decompressing your spine and RELIEVING the pressure. 
Less pressure means less pain
If you are suffering from any of these, our medical-grade quality belt has changed the lives of thousands who were suffering in extreme pain with
✅Spinal Stenosis
✅Degenerative Discs
✅Herniated/Slipped Discs
✅Bulging Discs
✅Sciatica
✅Scoliosis
✅Pinched Nerves
✅Postpartum Back Pains
It can help relieve your pain too!
When poor posture is not fixed , it slowly leads to more problems. Some common problems that result from poor posture are Headaches, Muscle Fatigue, Body Aches, Back Pain, and Poor Focus.
Normally Spinal decompression therapy can cost you upwards of  $6000.
Our SpineSecure™  Decompression belt will last you a lifetime. For less than $100 you can uplift your spine and be pain-free again so  you can enjoy the activities you love.
Try it out today! 
WHAT 

ARE THE BENEFITS?
1. Decompresses your lower back (lumbar) and instantly relieves pain by relieving pressure off pinched nerves, degenerative, herniated, and bulging discs.
2.The decreased  pressure means less pain
3. By straightening your spine it will help you stand taller, feel better and improving your posture and taking the pressure off your back.
4. Stretches and disperses lower back tension ending any soreness and stiffness.
5. Helps to  Rehabilitate spinal conditions such as spinal stenosis, herniated or bulging discs, scoliosis and sciatica.
 

Buy

Your SpineSecure™  Pro Decompression Belt Today 
HOW 

DO I USE IT?
It is very simple to use:
Place decompression belt around your midsection. The lower part of the belt should sit just above the upper part of your pelvic area.
Fasten the two ends of the belt together using the velcro
Turn the air valve clockwise, then attach the air pump to the valve
Continue to inflate the belt until it is fully inflated. When fully inflated, remove the nozzle from the belt
When you have finished using the belt, turn the air valve in a counter-clockwise direction to deflate   (box is for display purposes only)   
FREQUENTLY ASKED QUESTIONS
Q: Can both men and women use it? 
A: Yes! it is designed to perfectly fir both men and women.
Q: How long should I wear it for?
A: You should use the belt daily as it feels comfortable to you for a minimum of 30 minutes per day. If you start to feel any discomfort then take a short break from use. Most people feel instant relief from pain. The best results are seen with 2-4 hours of continuous use per day
Q: Will it fit?
A: Yes ! it will have no problem fitting most people. It ranges from 29 inches (75cm) to 55 inches (140 cm) that covers all sizes. For larger sizes, we also include an additional extension strap free with every order 
Q: Can I wear it under my clothes? Will anyone notice?
A: Yes! the sleek design will fit under your clothing providing a discreet look. However, for better comfort, it is advised to wear it over your clothing.
Q: How long will shipping take?
A:  7-21 business days depending on your location. All of our orders are sent via TRACKED  shipping so you can track your order in real-time.
WHAT

 WILL COME WITH MY ORDER?
Package Includes:
✅1 x Belt ✅1 x Air Pump✅1 x Extension Strap✅1 x User Guide
DON'T SUFFER ANYMORE... TAKE ACTION 

TODAY 
Please Note - Due to an increase in social media attention stock is running extremely low. This Sale price will end very soon
TRY OUT THE SpineSecure™ PRO DECOMPRESSION BELT

- FULL 30 DAYS MONEY BACK GUARANTEE 
Try out the SpineSecure™Pro Decompression Belt for 30 days.  If you're not 100% satisfied then just let us know and we'll give you all your money back no questions asked! 
We have 24/7 support and we are always on hand to answer any questions or help you out with anything
100% Simple & Risk-Free process.
Please note:Due to COVID-19 situation  as you know, there might be unexpected delays in shipping  but we will try our best to allow your order to reach on time.**
Note: We provide a free PDF to go along with our belt that provides information on how to relieve your back pain.
👁️  42 people are currently looking at this product